Before diving into this section, please check out Support along with Basic List Navigation in Tips & Tricks.
Vehicles are used to conduct Patrols in Patrolguide. They can be assigned to Patrol Groups for the purposes of helping organize your fleet, but that won't prohibit officers from selecting Vehicles from one Patrol Group to conduct Tours in another.
Note: Vehicles from Legacy were moved from Patrolguide into Inteliguide in V2. Legacy Inteliguide actually allowed for Vehicle records, but the list there differed from that of Patrolguide and was not utilized. We wanted to simplify and consolidate the management of the Vehicles in the two applications into one contextual and easy-to-use section. It just made the most sense to keep the management of Vehicles for both Applications under one roof, so-to-speak.
Vehicles don't play a major role in Shifts as of yet, even those that are created for Patrol Groups, but we may change how we consume those records in Inteliguide down the road.
Note: Admins can access Vehicles by clicking on the Manage menu drop down.
List
Search By
Name
Info (except the Year)

Filter By
Active

All Patrol Groups

List of Active Patrol Groups

All Vehicles

Expired License
Expired Maintenance
Both

Sort By
Name A..Z (default)
Name Z..A
Make A..Z
Make Z..A
Model A..Z
Model Z..A
License Soonest (License expiring soon)
License Latest (License expiring later)
Maint. Soonest (License expiring soon)
Maint. Latest (License expiring later)

Bulk Actions
Clicking on the List Item link will take you to the Vehicle Details.
Note: Past due License and Maintenance Dates will appear red in the List.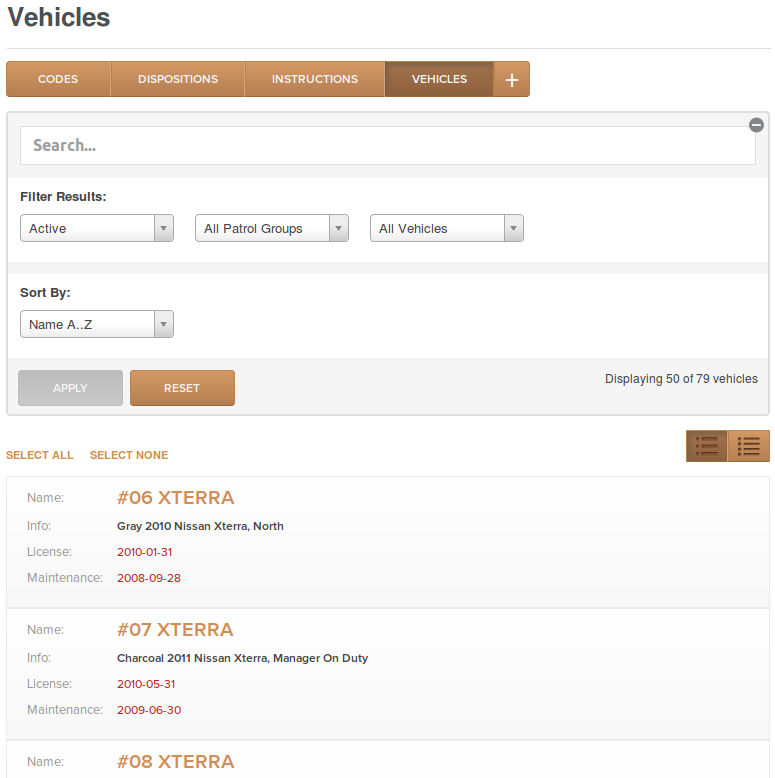 Details
Main Info
The headline is the full Name of the Vehicle. In the example, #06 is part of the Vehicle's Name.
The sub header of the Vehicle is as follows:
Which appear as separate fields, as you can see below, on the Form. The rest of the information is self-explanatory.
Note: Past due License and Maintenance Dates will appear red in the List.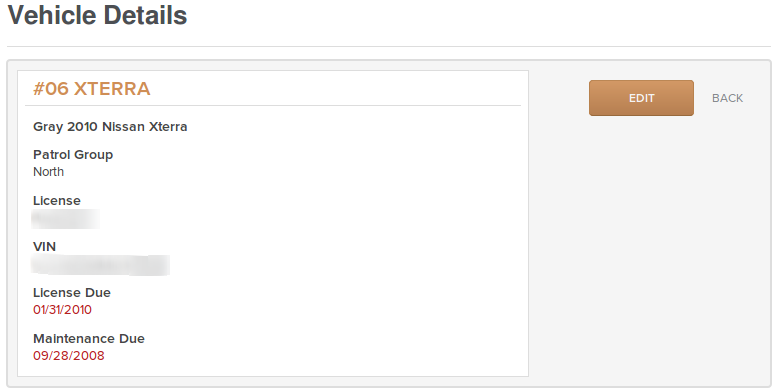 Form
Required Fields
Name
Color
Year
Make
Model
Setting a License and/or Maintenance Due can serve as a reminder for Operations when those things are up for renewal. They are, however, optional.

Full Form