Again, Instructions is another term that is at risk of sounding ambiguous and confusing. Instructions, in V2, refers to the erstwhile Site Specific Instructions in Legacy Inteliguide. As noted elsewhere, we decided to simplify the label of Site Specific Instructions to just Instructions for the sake of brevity.
Before diving into this section, please check out Support along with Basic List Navigation in Tips & Tricks.
Instructions are used to tag or categorize Shifts with specific flags, so-to-speak. A User Scheduled for or considering Committing to a Shift can view Shift Details. Those Details include Instructions that can describe anything from dress code and what to drive while working a Shift, to pre and post Shift activities like inspections and equipment maintenance.
Note: Site Specific Instructions from Legacy became simply 'Instructions' in V2. There may be some older screen shots that allude to or outright say "Site Specific Instructions" but we recognized the need to simplify that during development.
You can think of Instructions as general pointers given on a Shift by Shift basis. Also - Code, Dispo, and Instruction Support Items are relevant to Shift Defaults.
Note: Admins can access Instructions by clicking on the Manage menu drop down.
List
Search By

Filter By

Sort By
Name A..Z
Name Z..A
Category A..Z (default)
Category Z..A

Bulk Actions
Clicking on the List Item link will take you to the Instruction Details.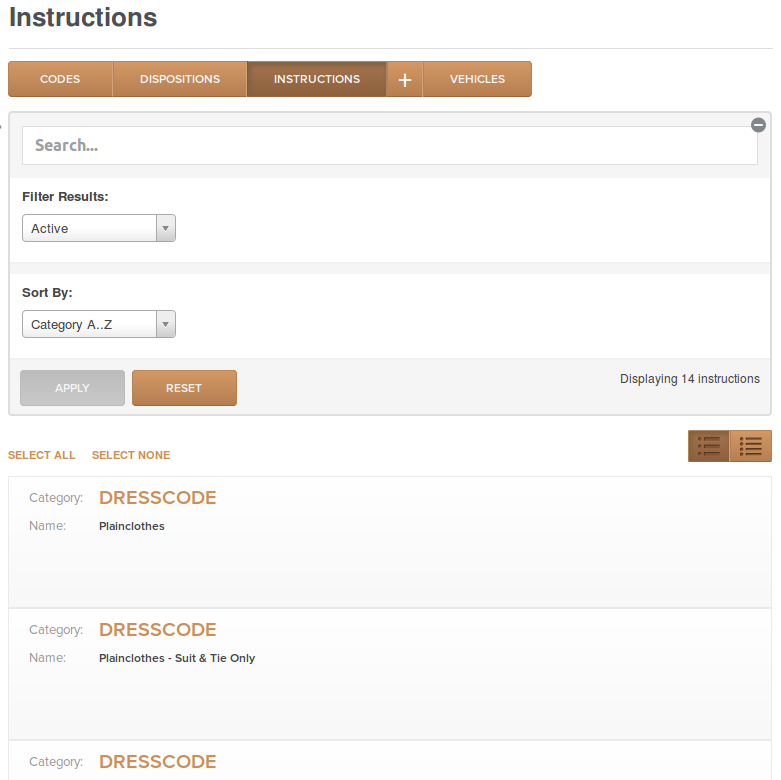 Details
Main Info
In the headline of the Instruction, you will see the Category followed by the Name of the Instruction separated by a hyphen. For now, that mimics the behavior of Legacy Instructions.
Form
Required Fields
Notice that there are no Default Actions associated with Instructions. This is because the Instruction itself is generally an Action of what to wear or what to drive or accomplish when working the Shift.

Full Form