Pending Shifts is one of the simplest of all of the Manage sections, but it takes some context to understand. Shifts can be Scheduled in various Statuses. One of those is Pending. The Pending Status allows Admins to create a fully formed Schedule in advance for planning purposes, without exposing those Shifts yet to Users who might be eager to Commit to them.
Using this form, and when the time is ripe (typically just before the start of each month), you can release whole swaths of Shifts with the click of a button. Simply select a Date Range and click the RELEASE button. What happens with the click of that button is that any Shifts in Pending Status in your selected Range will switch from Pending to Available Status. This creates, in essence, a "feeding frenzy" where the best and most tenured Users can select the choicest Shifts out of the released batch. It's an effective tool for crowd sourcing Scheduling.
Note: Admins can access Pending Shifts by clicking on the Manage menu drop down.
Form
Required Fields


Date Picker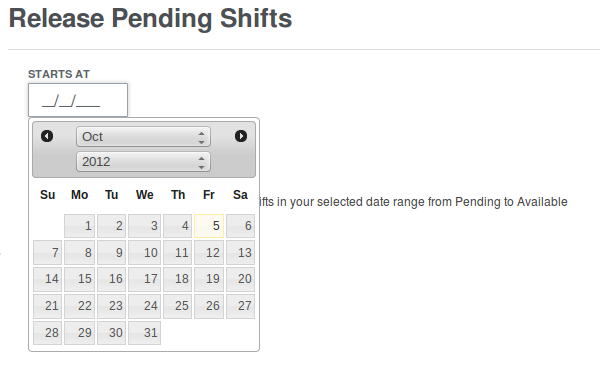 Related: Committing to Shifts & Priority Rank & Level Bumping