Documents are just that... a categorized list of Documents that Admin Users can upload with certain view rights. Users with the correct view rights, according to their Role, can then download the documents.
To get a good example of how Documents are used, just take a look at the Categories:
Bulletins
Company Info
Reports
Site Info
These categories are, for the time being, hard-coded. That means that no User of any Role in the system can change them. We are, however, planning on upgrading this section significantly in the coming months and customizable categories is among the planned enhancements. Coming soon!
A good example is employee handbooks and SOP (Standard Operating Procedure) documentation, or site specific post orders. Limiting the accessibility of certain documents to specific Roles can be a very effective tool for disseminating sensitive information to specific groups of Users.
Don't forget to check out Basic List Navigation in Tips & Tricks.
Note: Admins can access Documents by clicking on the Documents menu tab. The drop down reveals a quick Upload link.
List
Search By

Filter By
Active

All Categories

Bulletins
Company Info
Reports
Site Info

All Roles

Date Range

Sort By
Newest First
Oldest First
Category A..Z
Category Z..A

Bulk Actions
Archive (useful for seasonal info, simply reactivate it if the file comes in vogue again)
Delete (removes the entry and the file entirely)
Clicking on the List Item link will initiate the Document file download.
Document Read Receipts & new Detail Page View
Given that we wanted to make Post Orders for Dedicated Work Orders much more accountable, we knew we had to add Read Receipts to Document Downloads. So, we did!
We added a new Document Detail page where you can view Document Views.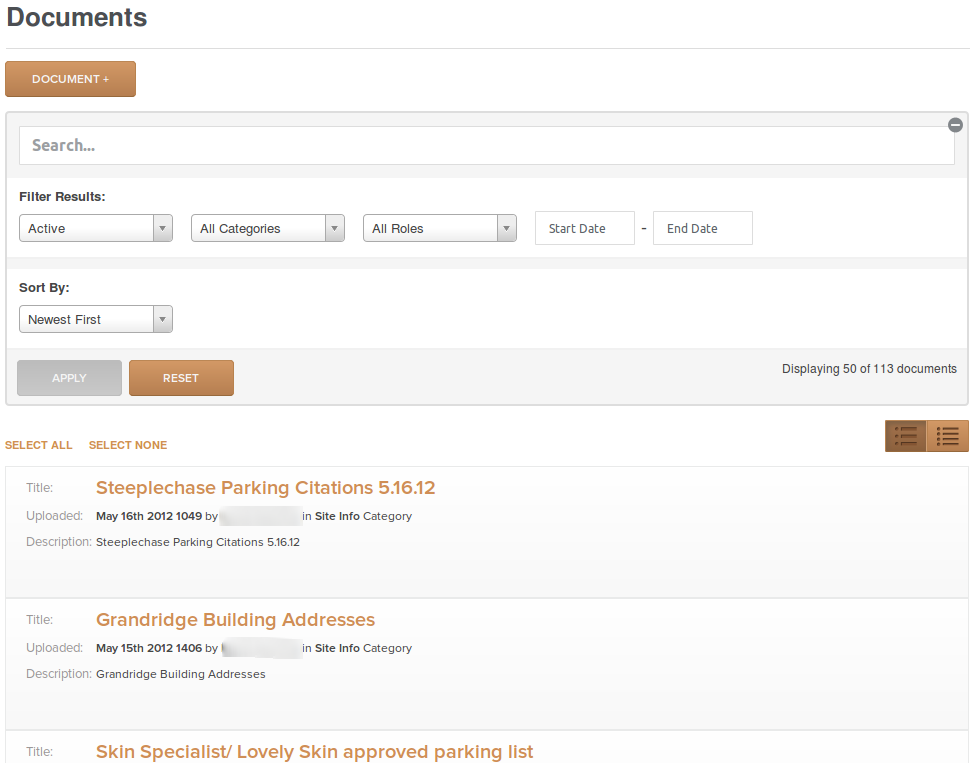 Form
Required Fields
Title
Description
Category
Document

Full Form