Looking for quick info on adding a Business? Click Here
Though Locations, especially, and Groups are the focus of more activity in the Accounts section, Businesses serve a very important purpose. Businesses need to exist before Locations can be created for them, just like Locations need to exist before Groups can organize them. The Franchise Core section outlines how a Franchise is really just a special form of Business.
As discussed in Authorizations, Businesses can traverse Franchise Contexts (Markets). One Business might need to be created for just one Location in one Market, but as is often the case... one Business might have many many Locations across many Markets. Those Locations might conceivably span the globe. Think Burger King, for example. Knowing that, and knowing the amount of duplication we encountered, we felt that we needed a way to quickly Authorize existing Businesses to be used in new or different markets. We also wanted to de-dupe all the duplicate records in the legacy schema.
Don't forget to check out Basic List Navigation in Tips & Tricks.
Note: Admins can access Businesses by clicking on the Manage menu drop down.
List
Search By

Filter By

Sort By
Name A..Z
Name Z..A
Locations 0..9
Locations 9..0
Shifts 0..9
Shifts 9..0
Tours 0..9
Tours 9..0

List Item Info Totals

Bulk Actions

Authorizations
Please review Authorizations to understand how you can Edit a Business that already exists for another Market but was Authorized for use with your Franchise.

Franchise Listing
Every Franchise Context will feature itself in the List of Businesses. Since Master Admins are the ONLY Users that can Edit a Franchise, Admins will be able to View the record, but won't be able to Edit it.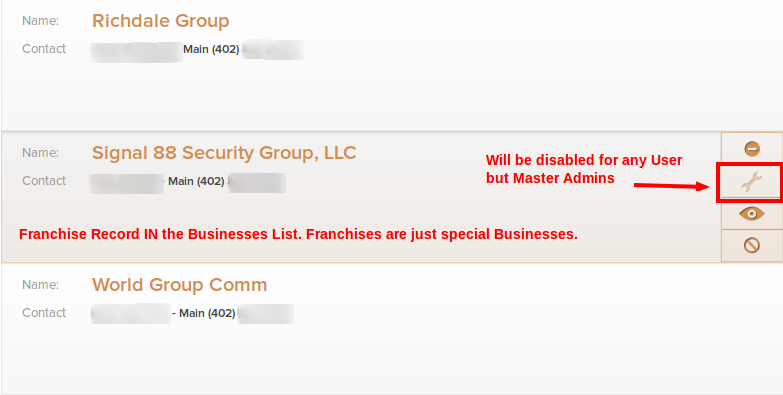 Clicking on the List Item link will take you to the Business Details.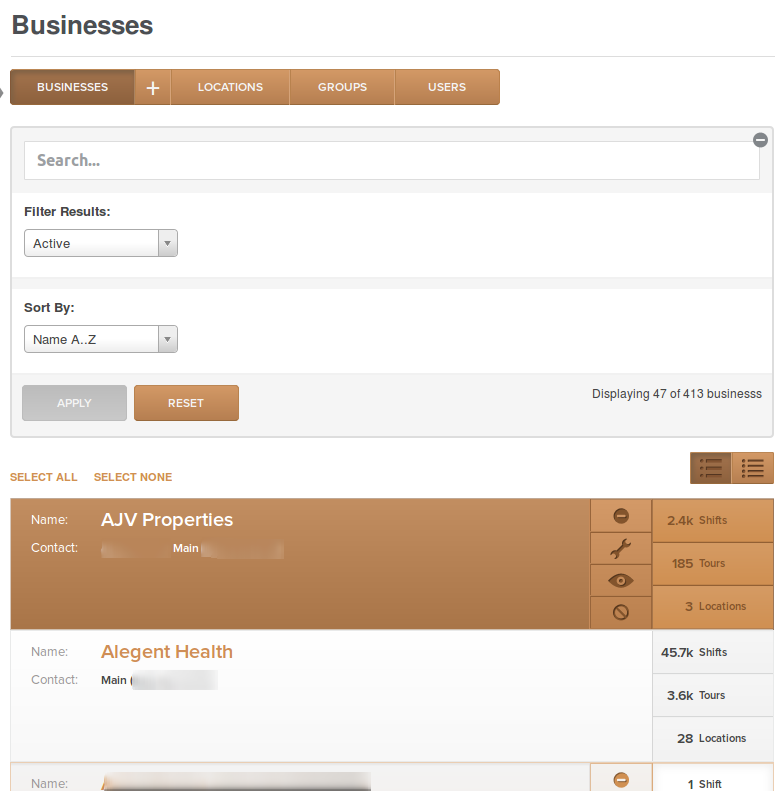 Details
Main Info
Here you will see all the information associated with a Business. Headline is the Business Name followed by a grouping of one or more Contact Methods.
Below the main info will eventually be a collection of all Locations that belong to the Business. Expand it and click on the links to access those respective Locations. Coming soon! But, for the time being, it will display the optional Contact created for the Business; if one exists.
Note: Unlike Locations, which have a separate From for adding Contacts, Businesses can, for now, only have one Contact apiece. As a matter of time, the scope of the project didn't allow us to create a full Contact maintenance system. We'll be introducing that soon in order to unify how Contacts behave and how they're accessed application-wide. Coming soon!

Headquarters
Like Franchise Detail pages, Business pages will display Location Headquarters. For now, those are the FIRST Location created for the Business. We'll eventually be adding support for the ability to define which Location out of many can serve as the Headquarters for a given Business. Coming soon!

Related Totals
Locations (again, this will be replaced with an expandable/collapsible list of links like seen on the Group Details)

Actions
Location + (create a Location for this Business, will take you to the Add Location Form w/ the Business preselected)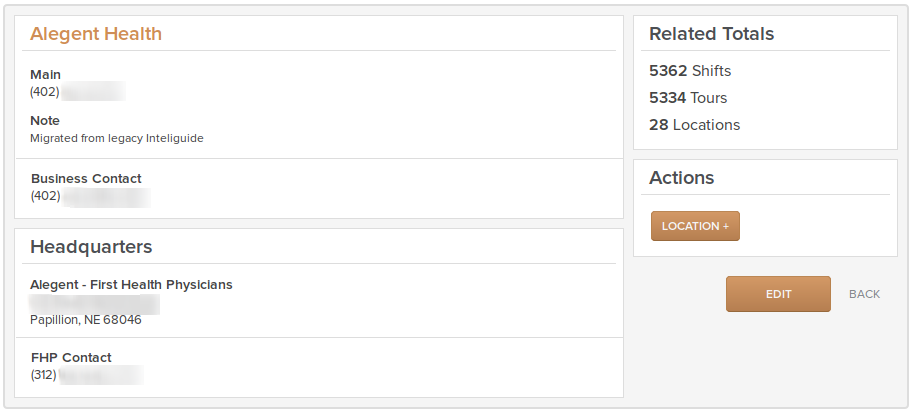 Form
Required Fields

Optional Contact
You can expand the Contact panel and optionally create one Contact for the Business. Since it's a one to one optional relationship, we didn't create a separate form for the Contact.
Required Field:
Note: The Contacts associated to Businesses (and Franchises) are one-to-one. A unique Contact belongs to a unique Business. The Contacts belonging to those Businesses are NOT accessible to Locations. We'll be fixing that soon with a better managed, full-fledged Contacts system. Coming soon!

Authorizations
Please review Authorizations to understand how you can Authorization a Business that already exists and that was created for another Franchise Context.

Full Form