Don't forget to brush up on Basic List Navigation before continuing.
Cancel Shifts Before Deleting Them
---
Shifts have to be in Cancelled Status in order to be Deleted, and they can only be Deleted via the Agenda.
Go to the Agenda and filter by Cancelled Status to find and select the Shifts you want to Delete. If the Shifts you'd like to Delete are not already in Cancelled Status, then you can select all the Shifts you'd like to Delete and use the Cancel Bulk Action to put them all in Cancelled Status at once.
Once all your Shifts are selected on the Agenda Shifts List, as long as they're all Shifts that are in Cancelled Status, you will see the Delete option in the Bulk Actions drop down. Click on that, confirm, and enjoy a cleaner Schedule!
Deleted Shifts Generated By Dedicated Work Orders WILL Reappear
---
Dedicated Work Orders will attempt to find and fix discrepancies between the Shift Schedules that generate out weekly schedules of Shifts, and what it finds on the Schedule. It looks at every day, and regenerates Shifts that it determines should be there, but that it finds are missing. This is a way to ensure that future schedules remain consistent with Dedicated Work Orders, especially in cases where saving a new or edited Work Order results in Shift creation failures somewhere along the line. Such an event is infrequent, but the builder covers for that when it runs every weekend.
The builder runs every Saturday at 0500 Central. Aside from the role it plays in fixing schedule errors, it also pushes out the shifts each week by one more week for Work Orders without a set end date.
Solution:
If you have a permanent change to upcoming Shift Schedules for any Dedicated Work Order, don't just Delete Shifts from your Schedule. Instead, make sure to reflect your desired change IN the Dedicated Work Order Shift Schedules.
You can easily recognize a Shift that has been generated by a Dedicated Work Order in the following ways:
Click on the Shift on your Schedule, and look for a link to the Dedicated Work Order.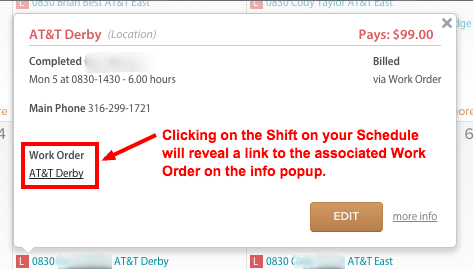 Look for the 'via Work Order' label on Agenda List Items.

Look for the Work Order link on the Shift Detail page.