Interested in learning about mobile Activity Reports? click here
Activity Reports serve as the backbone of how Inteliguide is used to communicate with Clients. Establishing a well documented paper trail for Clients to reference keeps them engaged by ensuring that they're getting value for the services they're paying for. It is the primary retention tool for contracts. Disseminating accurate and well-thought-out descriptions of on-location work is difficult enough to produce consistently, so that's why we redesigned the form to eliminate unnecessary steps and clutter. We're also looking at expanding on the Client Report capabilities of Inteliguide.
General Activity Reports serve as generic 'templates' that have traditionally been more specifically categorized using Codes and Dispositions. But we feel there's room for major improvement on how the reports themselves are filed, and what exactly can be filed. We're looking forward to adding various forms of Incidents (Ban & Bar, Parking Violation, Special Activities, etc.) that can be added with diverse media (images, video, audio, text, location services) via web and mobile platforms. Coming soon!
Ease of Use
---
Again, we wanted to go back to the drawing board when it came to logging Activity Reports. While we knew the scope of our V2 project was large enough that we couldn't do all the things we have planned during this initial development cycle, we still wanted to take advantage of our new design team and streamline the user interface (UI) and user experience (UX). We started by introducing some new UI elements like intelligent drop down select controls, particularly on the Codes and Dispos selectors.
We wanted to easily search Codes and Dispos and make categorized multi-selections. As Users log more and more Reports, a popularity index will be calculated and that category will keep track of the top Codes and Dispositions used. That way, the most popular selections are always a click or touchscreen tap away. Beneath that are categories based on the type of Code and Dispo: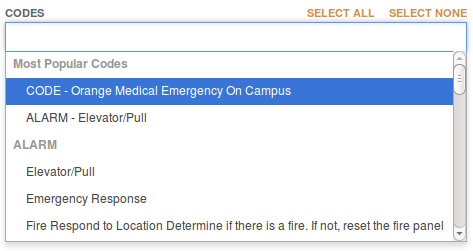 Furthermore, we knew we could produce better results when it came to UX. We reduced the entire process down to two steps, as outlined below.
Internal Users will be able to access Activity Reports in various ways:
Managers can Log and Edit any Report for any Shift at any time, even for Pending or Cancelled Shifts. These Users can easily Log a Report via Shift Details, or expand the Reports section below the Main Shift Info and click the link to the Activity Report Detail; from here, they can easily Edit the Report. They can also Edit existing Reports directly from the Client Reports List.
Civilian and Cop Users can log Shifts they've Committed to, are actively Scheduled or In Progress for, or have Completed. The Write Report icon on the Shift Dash Widget will switch on once Users Clock In for their Shift, but even if that's disabled… they can still access the Shift Detail page and log Reports at any time. They can Edit the Reports written for their Shifts while they're actively working them. They can't, however, Edit their Reports once they've Clocked Out or are beyond the Time Punch Restriction grace period. They would have to contact Management in order to do so. These Users can log a new Activity Report from the Shift Dash Info & Actions Widget or Shift Details.

Report Process
---
Step 1 (Compose Report)
Report Info
Report Info serves as the first thing Users see when they start to Add or Edit an Activity Report.
Categories bring a higher level of control to how Activity Reports are filed. Clients and Managers alike can better consume the important information streaming in day and night as the result of security operations. Reports will default to the Activity Category, but Users can easily change that to either Flagged, Maintenance, or Incident.
Activities are your most common type of report. These catalog everyday officer activities as they observe and report at Client Locations.
Flagged Activities are common Reports of elevated importance. They're not emphasizing Maintenance concerns or security breaches and crime Incidents. An uncommon vehicle in a parking lot, or a note about something that may need a Manager's or Client's attention are good examples. Movers temporarily propping open a secured access may be a good circumstance to call out. Users must give Flagged reports additional explanation if selected
Maintenance issues involve anything from lighting assessments, overflowing trash bins, drives and walks obscured by weeds, graffiti, storm damage, etc.
Incidents involve security breaches, crimes, ban & bar, noise complaints, parking violations, alarms, etc.

Flagged Report Explanation
A small text box will pop up if Users select the Flagged Category. This text box asks Users to further clarify why they're Flagging the Report for attention.


Summary & Detailed Note
Report Info is followed by one-line Summary and multi-line Detailed Note text boxes.
Note: New to V2: we now utilize local browser storage to cache the results of User input. Summaries and Notes typed by Users get stored every few seconds so that if they experience connection loss, or the browser or system crashes, their work will be saved!

Codes, Dispos, & Locations Selections
Following the Summary & Detailed Note fields are Codes, Dispositions, and Locations selectors.
Report Codes/Dispositions are many related "tags" that are required to accompany reports. They may be general in describing the work Users did while Touring (Roving Foot/Vehicle Patrol) or working a Shift, or very specific in how they reacted to an incident or request that they encountered onsite (Gas Leak… Called Utilities, for example). The Codes/Dispos Users select often come with instructions on what to do next. Some markets have highly specialized Codes/Dispos according to their job sites, but the collection of possible Codes/Dispos that Users have available to them for any given Location can be decided by their management. So Users may request that new ones be added to their overall list or to the Locations where they're needed.
Note: If a Report is being logged for a Shift created for a Group that has more than one Location... Users will have the option of selecting one or many Locations for which the Report is being written. Should the Shift have been created for a Location, or for a Group possessing only one Location, they won't be bothered by that selector.

Step 2 (Confirmation and Finish-up)
Many Code actions require some sort of Action, Users should pay close attention to any that may appear under the Actions header after reviewing their Report Confirmation.
Clicking Finish & Report + logs the current Report and immediately begins a new one for the same Shift or Tour.
Clicking Finish will bring the User back to whatever section of the application they originated from. This could be the Dash or the Shift Detail pages.

Note: Client Reports more fully details how Activity Reports are consumed.