This List presents all Activity Reports filed for all Shift operations in a given Franchise Context.
Looking for how Clients can receive reports automatically?
In addition to this Client Reports List, we've also built new "self-serve" features for Clients that now allow them to automate the report delivery process. This is in conjunction with our new Report Categories system. This can save Admins a ton of time since the Categories themselves will help separate the signal from the noise and Clients can now help themselves using a variety of delivery and alert options directly in their Profile Settings.
Clients can quickly get to their settings by clicking the Settings button on their Dashboard as soon as they log in.
Note: Be sure to visit Activity Reports since it really goes hand-in-hand with Client Reports.
Don't forget to check out Basic List Navigation in Tips & Tricks.
Note: Admins & Clients can access Client Reports by clicking on the Reports menu drop down.
List
V2 will automatically load and feature the most recently written Activity Reports at the top of the list. This means you'll always see the most up-to-date snapshot of your reports, and it also means you're not forced to first enter a time-range and generate reports results just to apply additional Filters.
Search By

Filter By
You'll notice that you can automatically start selecting one or many Codes & Dispos to filter your reports results by. Those Filters have been added to the normal Search Panel Filter section. No need, as in legacy, to enter a specific time-range, generate a results set, and expand an advanced panel before taking advantage of them.
All Locations
All Users

Active Users scoped for the current Franchise Context

All Types
All Reports

With Attachments
Without Attachments

All Categories

Flagged, Maintenance, Incident
Flagged
Activity
Maintenance
Incident

Date Range

Start Date/Time
End Date/Time

All Codes
All Dispos

Sort By
Newest First
Oldest First
Location A..Z
Location Z..A
Name A..Z (of the User who logged the Activity Report)
Name Z..A

Bulk Actions
Email
CSV Export
View Detailed (opens all selected into a new window for easier reading)
Delete (This is destructive and irreversible)

Email
Make one or many Report selections and select the Email Bulk Action. That produces a pop-up Form that will allow you to enter an optional Subject and Body, add Attachments (with drag and drop file integration), and select additional options and recipients.
Options:
Send Just Links to the Report Details - Instead of sending whole Report contents, this settings just sends out Links that Clients can click on to view in browser
Auto Select Opted-in Client Recipients - This automatically looks for the relevant Opted-in (meaning, they've opted into receiving report email blasts) Clients on a per message basis and compiles one or many of them into a single email that is then sent to each respective Client
Generate Recipient Audit File? - Will generate a log text file documenting a list of Client Auto-Recipients and the respective Reports that will be sent to them. There's a handy VIEW RECIPIENTS link that will produce a popup of the same report. That's useful in auditing the recipient list prior to sending it off
Select Recipients - Additional recipients that will receive all of the selected Reports.
Note: Additional recipients will receive all selected reports, regardless of their Location Rights. Take care and exercise caution while using this, as it could be possible for some Clients to receive Reports for Locations they have no Location Rights to.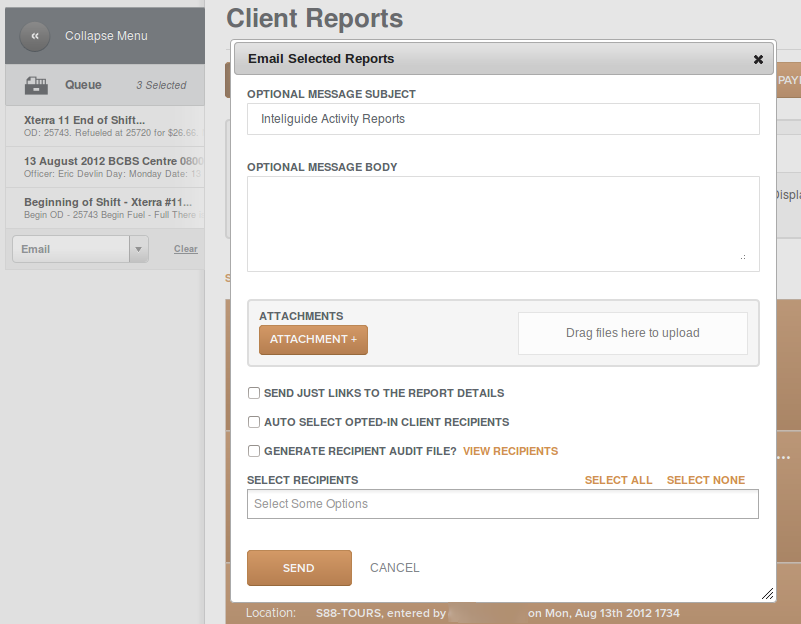 CSV Export
Make one or many Report selections and select the CSV Export Bulk Action. Your selections will be formatted into a comma separated value file format for easy import into programs like Microsoft Excel. The Bulk Action kicks off a background process that once successfully completed will send you a system message to your Inbox with the file attached.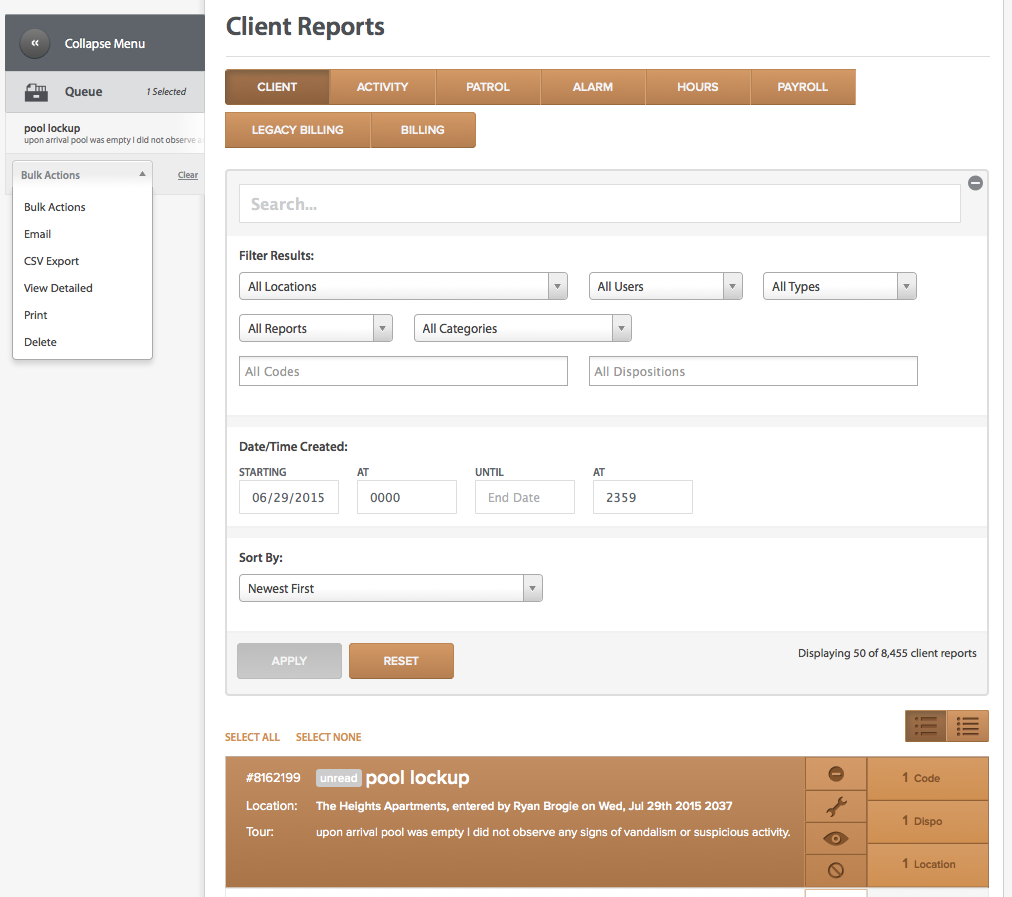 Depending on the Report Category, whether the User has viewed the Report, and whether the Report is considered a Pass Along Report (a report another User has filed but that is accessible to Cop/Civilian Users that are Scheduled for the same Location or set of Locations) there may be a variety of badges that appear beside the Report Summary Link on any List Item.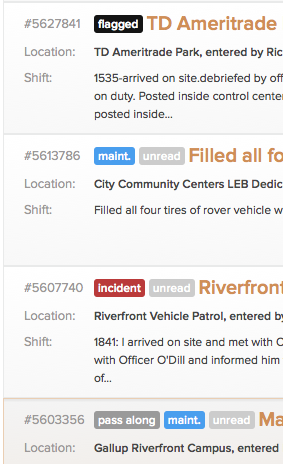 Reports with attachments now have their own indicating badge as well.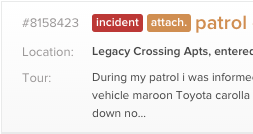 Clicking on the List Item link will take you to the Report Details.
Details
Main Info
Report ID and Summary of the Activity Report comprises the Header. Subheader contains the User who logged the Report and the Location/Group it was logged for. Directly below is date/time and duration information followed by the Detailed Note, along with a link to highlight the map marker when location information is associated with the Report.
Map
A map will accompany the Client Report in the following cases:
If the associated Location has been geocoded with a longitude and latitude location fix.
If the Activity Report has been logged via the Mobile Inteliguide App from a device that is sharing access to its location. These points are logged for both the reports AND any media attachment uploads.
Location marker and annotation: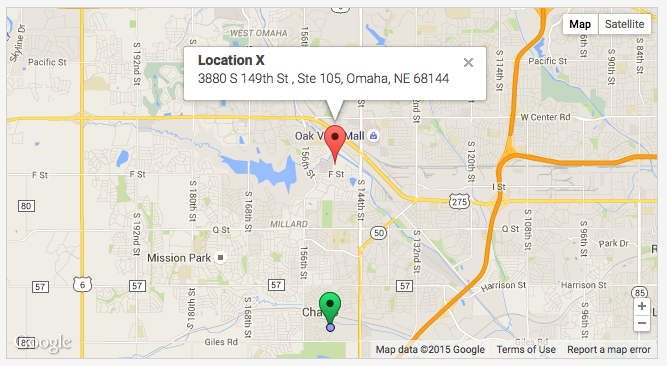 Report marker and annotation: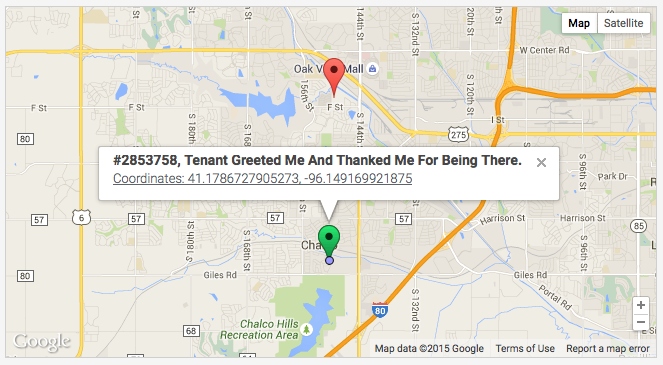 Attachment marker and annotation: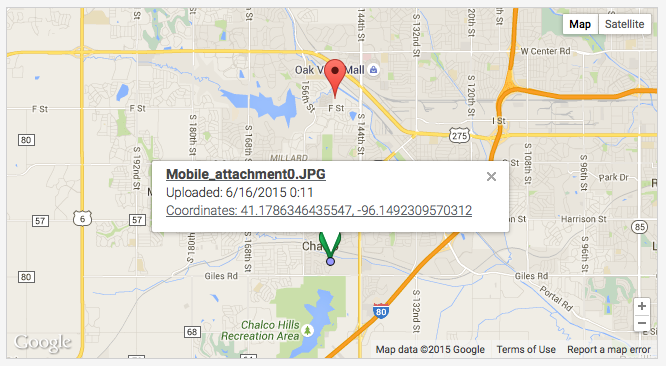 Attachments
Any attachments uploaded for the report via the web or mobile will appear here. They'll be listed with preview for those types of files that can be previewed in a browser, or they will feature a download link if no applicable preview is available or compatible with your browser. Attachments that were uploaded via the mobile app with a device that was allowed to share its location will feature a 'show on map' link that, once clicked or tapped on, will highlight its location on the Report Map above.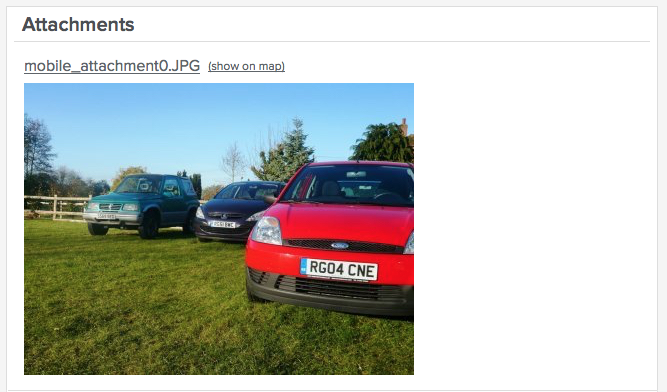 Collections
The area directly below the Main Info is an expandable/collapsible list of Locations, Codes, and Dispos that the Report was created for, along with a list of all those Users both Internal and External that have viewed the report.


Related Info
For Shifts
Shift Start
Shift End
Duration
Report Number (1st, 2nd, 3rd, etc.) and Shift ID
For Tours
Patrol Start
Patrol End
Tour Start
Tour End
Tour Total
In Prog
Reporting
Report Number (1st, 2nd, 3rd, etc.) and Tour ID

Actions
Note: As always, only the expected information will be available to Clients viewing the same Report. The above view is what Admin Users would see: Report Type (Shift or Tour), Location name, Report Start Date/Time (not the end), Report Number (1st, 2nd, 3rd, etc.), Summary, Detailed Note.

Users clicking on the main Report link on each List Item will see the report in a modal popup for easy navigation up and down through each Report in the List.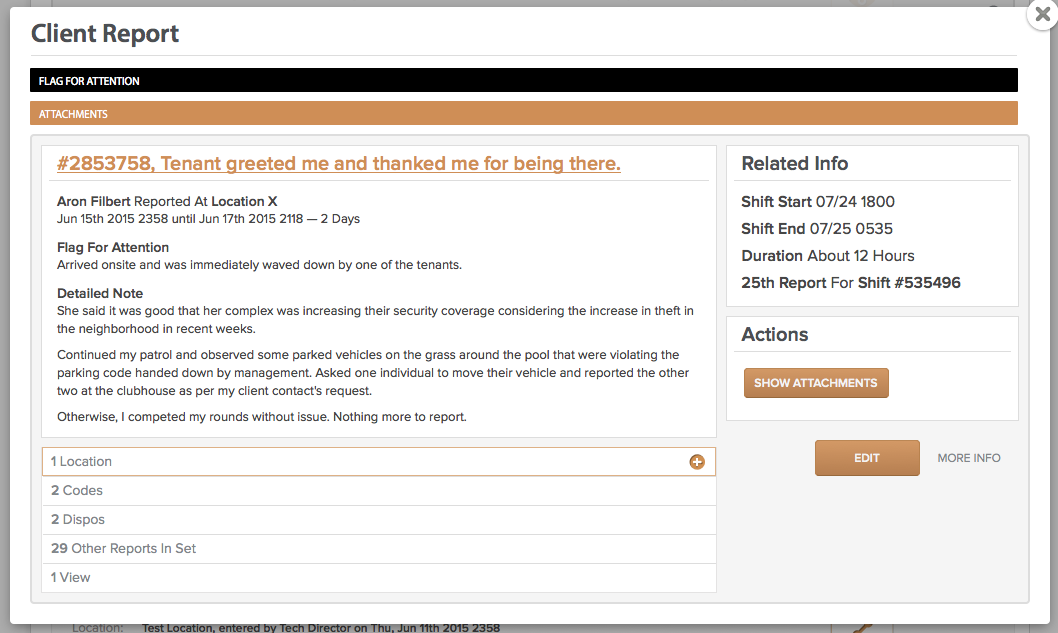 Clicking on the 'eye' icon will open up the full stand-alone detailed page: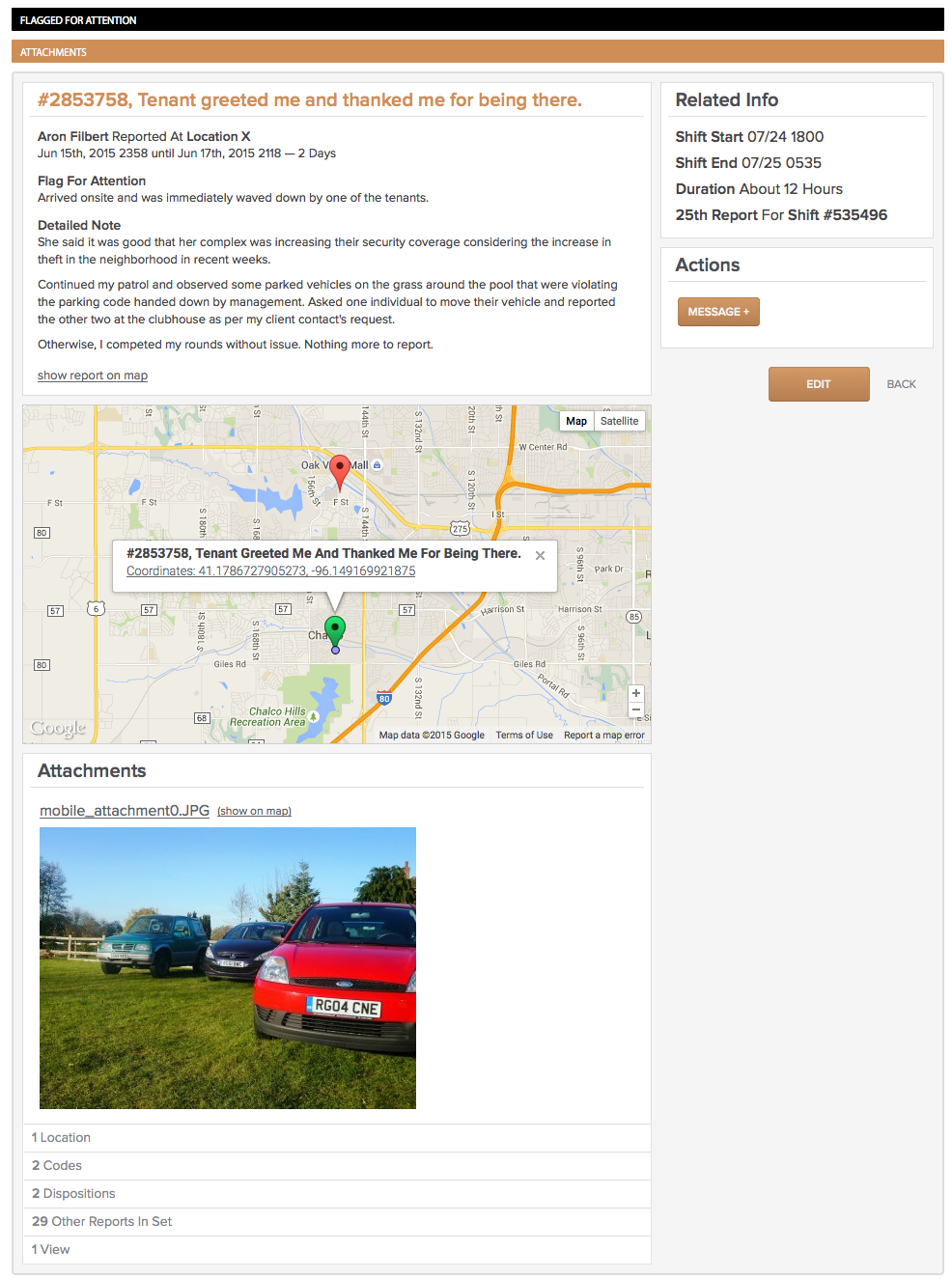 Category Indicators, Flagged Explanation:
These headers will appear over each Report of their kind to indicate the Report Category. Normal Activity Reports without Attachments do not receive a special header.

The Flagged for Attention Reports will have additional information explaining why they were called to your attention.
Edit Form
Please reference Activity Reports for more details.
Note: There is no Add Form for Client Reports. You can create new Activity Reports for individual Shifts by clicking Report + on Shift Details.
Missing Activity Report Officer Summaries
We've decided to lessen the clutter of the Client Reports and move those summaries into a separate report entirely. Please check out Activity Summaries for more info.
Client View Rights
Clients will only have the ability to see a limited information per Activity Report both in the list and details, including the following:
Report Type - Shift/Tour
Report ID
Location - That the Activity Report applies to
Report Time - Just the Start Time
Report Number - as in 1, 2, 3 etc.
Summary
Description
This has not changed from legacy Inteliguide.