Committing to Shifts is something that really ANY Internal User can do, but it's primarily for 1099 Contract workers. The idea behind it was to allow contractors the ability to select the Shifts that applied closely to their changing Availabilities. It took the Scheduling work out of the hands of Admins and 'crowd sourced' the administrative overhead to a pool of contract workers. Managers could control who got greater or lesser access to Released Shifts via Priority Ranking and Level Bumping.
Note: This information is reiterated here under Shifts.
Committing on the Schedule
---
Committing on the Schedule is brand new to V2! In Legacy Inteliguide, Users would have to find their Shift on the Schedule and then click to the "Job Details" page in order to Commit to it.
Available Shifts on the Schedule have a solid background that varies in color depending on the Team that the Shift was created for. You can toggle the Schedule Key specifically to show just Available Shifts if you'd like: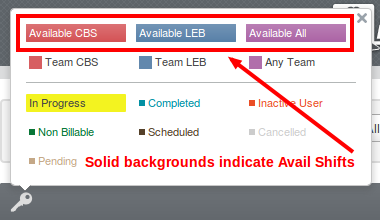 Or you can easily spot them among other types of Shifts with other types of Statuses.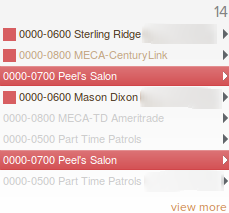 However you find the Available Shift that you'd like to commit to, you can easily commit to it by clicking on the Shift itself to view the Shift Info popup. Then, simply click on COMMIT. You'll be asked to confirm before you're fully Committed to the Shift.
Click Commit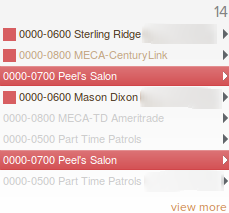 Confirm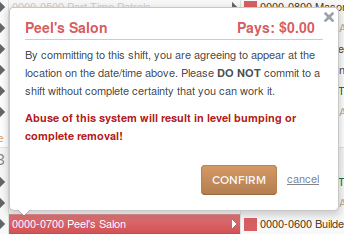 Committing on Shift Details
---
Virtually the same popup confirmation will appear if you Commit to a Shift on the Shift Details page.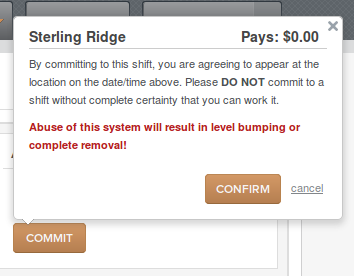 Note: Once you've successful Committed to the Shift, you'll be Scheduled to work it. You'll receive one or many notifications of your Commitment depending on how far into the future the Shift is, and depending on your User attribute settings (SMS).

Mobile Commitments
---
You can read more about Mobile Commitments here.