Looking for quick info on adding a Group? Click Here
Groups under MANAGE -> Accounts refers to Groups of Locations.
Groups are important because they can represent a body of Locations that are somehow correlated. Think of multiple Locations within a Mall, for example. You can create Shifts for both Locations (individually) AND Groups of Locations. There's nothing stopping you from creating a one Location Group, but you can also create a Shift for just a Location.
Other than Patrols and campuses, why use Groups?
A handy use-case for Groups is to create a Group where you can add to it both operational Locations as well as client Service Locations. This allows operational reports to be filed for operational tasks at operational Locations. For some examples:
Vehicle Inspection at your company's headquarters.
Pre/Post Shift activities.
Check In at a staging area (in the case of events)
Quality Assurance Spot Check for on-site shifts
Managerial and operational type reports that shouldn't be seen by a client, but that still need to be logged by your security business
Once you have a Group of locations put together, you can create Shifts for it. That Shift then exposes all the locations within that Group to the Inteliguide Activity Report Form. On that form, you and your officers can select the relevant locations that belong to that particular unique Report.
Important Note: Groups have a special kind of Category called Patrol. Locations will need to belong to at least one Active Patrol category Group before it will be exposed to Patrol Work Orders and Patrolguide. See more here: Patrol Work Orders, Patrol Tours & Alarm Dispatches - Responses and Patrolguide Patrol Process
Don't forget to check out Basic List Navigation in Tips & Tricks.
Note: Admins can access Groups by clicking on the Manage menu drop down.
List
Search By

Filter By

Sort By
Name A..Z
Name Z..A
Locations 0..9
Locations 9..0
Shifts 0..9
Shifts 9..0
Tours 0..9
Tours 9..0

List Item Info Totals

Bulk Actions
Clicking on the List Item link will take you to the Group Details.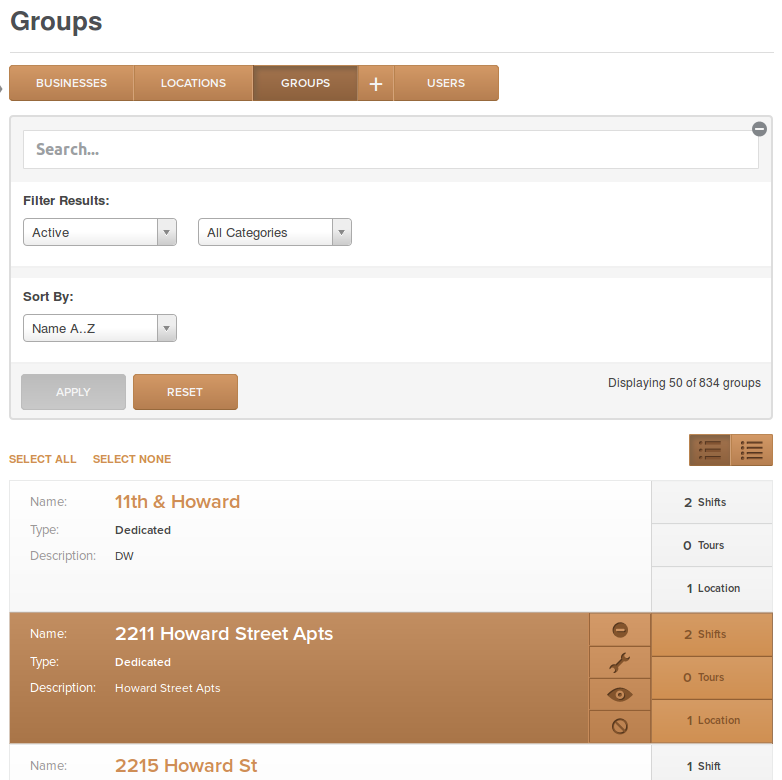 Details
Main Info
Here you will see all the information associated with a Group. Below the main info is a collection of all Locations that belong to the Group. Expand it and click on the links to access those respective Locations. A separate portion that contains the Groups Shift Defaults follows:

Shift Defaults
Note
Lunch (None, or 15min - 30min - 1hr or 2hrs)
Pay Rate
Billable Rate
Note
Codes, Dispos, Instructions collections

Related Totals
Shifts

Completed
Scheduled
Cancelled
Available

Tours (Dedicated will typically be 0, but may have a history of Tours if it were a Patrol Group at a time in the past)

Actions
Shift + (create a Shift for this Group, will take you to the Add Shifts Form w/ the Group preselected)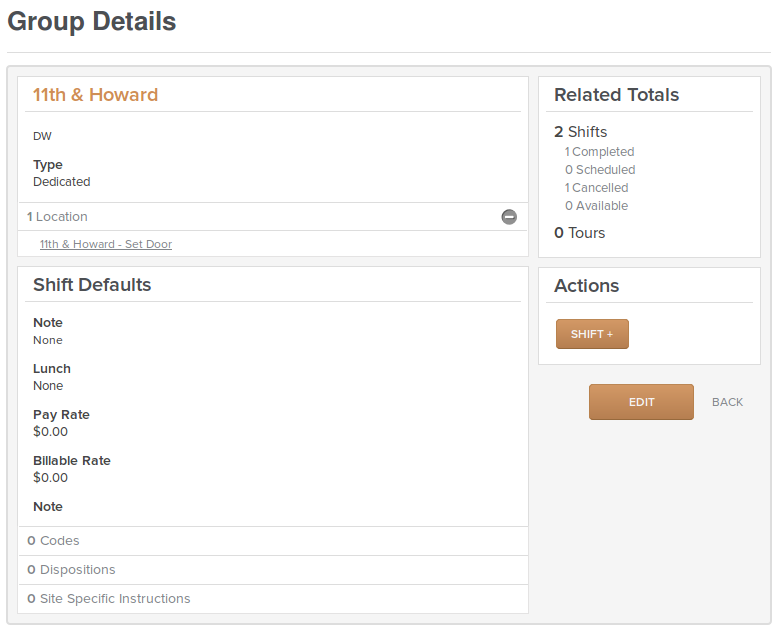 Form
Required Fields
Check out Shift Defaults, which appear in the optional expansion below the main Form elements.

Full Form